We are Christmas trees producers
Farmers in the region of Fougères in Ille-et-Vilaine (35)
Read more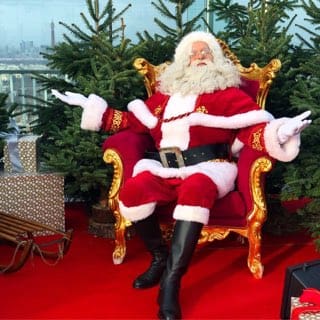 We are farmers in the village of Billé in Ille-et-Vilaine (35133). We are specialized in growing Nordmanns, Spruce and Grandis Christmas trees. We offer a home delivery service directly from our farm. The growing of Christmas trees is a long-term job. It takes on average 8 years to get a Nordmann Christmas tree of first quality.
We offer Nordmanns, Sprucesand Grandis of first quality. All year round we take care of your future Christmas tree.We produce different types of Christmas trees.We work in an eco-responsible way, we do not use phytosanitary products or synthetic fertilizers.
We made the choice not to use phytosanitary products. To fight the competition of weeds for access to light, we do a mechanical weeding by flail mower. It is a very tedious work but that allows us not to use glyphosate. We cut grass about four times a year. This represents a dozen hectares to cut with a big clipper. To fight against the pests that can be numerous in the pines (aphids, red spider mites, white spiders, abies aphids, etc…) we ensure the balance between predators and pests using colonies of ladybugs that are very fond of aphids. Having permanent grass cover gives predators of pests a suitable habitat. As a result, our nursery is a real refuge for all sorts of plants, insects and small animals.
We are members of the French Association of Natural Christmas Trees (Association Française du Sapin de Noël Naturel – AFSNN).
This association brings together the French professionals of the Christmas tree sector (nurseries, producers, traders, etc.) and strives to defend and promote the natural Christmas tree.
The members of the association are committed to:
the respect of the quality standards defined by the association,
the choice of a wide range of products,
the respect of the local regulations,
the use of production standards that respect the environment,
a standardized color marking.
The members of the association work to contribute to:
the promotion of the natural Christmas tree (flyers, posters, press campaigns …),
the normalization of the market (fight against any form of unfair trade …),
the application of fiscal and social regulations,
the constant search for a better service (range of products, packaging, transport …).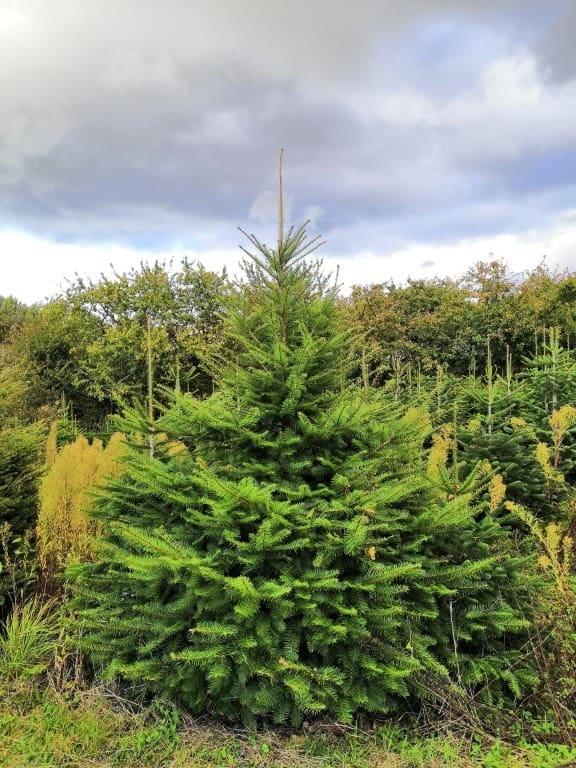 This is the Grandis, like the Nordmann it belongs to the Abies family. It is native to North America and is found in Canada (Pacific Coast, Vancouver Island, British Columbia). It is also found on the Pacific coast of the United States up to San Francisco.
At home in Brittany, it grows easily thanks to the abundance of rainfall. Its branching is very compact with an intense green color. It takes a lot of pruning work. It looks a lot like the Nordmann Christmas tree. It also keeps its needles for a long time. Very good quality/price ratio. Its main asset as a Christmas tree lies in its characteristic citronella tangerine scent. On our website www.sapindenoelrennes.com we sell Grandis Christmas trees in three different sizes.
Dimensions in cm : 125/150, 150/175, 175/200
The Nordmanns take a lot of work and time, During the first years they grow very slowly and compete with the weeds that grow much faster. From the fourth year on they have to be carefully pruned to acquire a Christmas tree shape. During the ten years needed to get a Christmas tree it takes no less than a hundred operations per tree. Nordmanns have the advantage of having a harmonious distribution of their branches. After you have ordered your tree on our website, we can at your request send you a photo of your future Christmas tree before we ship it to you.
The Nordmann tree was discovered and described by Alexander Von Nordmann in 1835 during an expedition to the Caucasus. The Nordmann tree is native to the Caucasus, its geographical area extends to Georgia, the south of Russia, Armenia, and is also found around the Black Sea. The vast majority of Nordmanns grown in France come from seeds originating from the Ambrolauri region of Georgia; the seeds are taken from the tops of centuries old trees known for their beauty. In France, Brittany is a very favorable region for growing Christmas trees thanks to its mild climate with good rainfall.
Dimensions in cm : 125/150, 150/175, 175/200.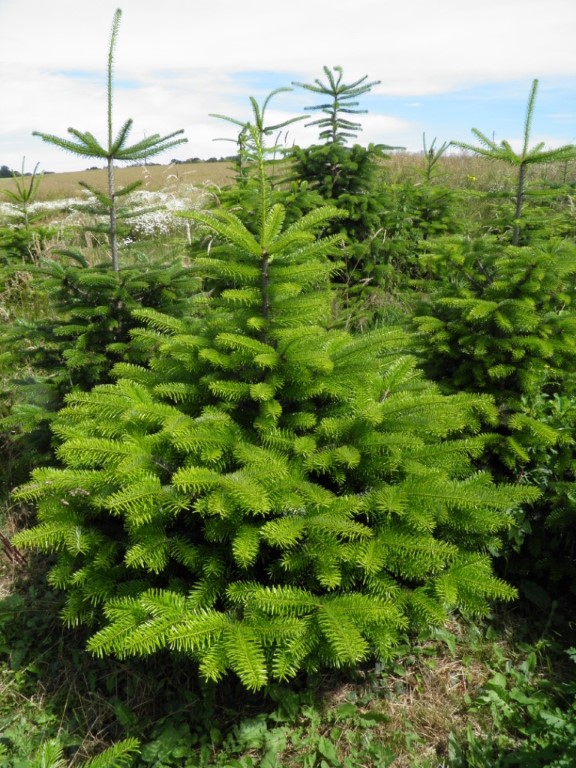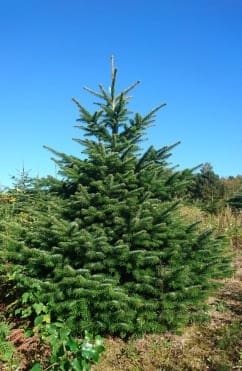 Spruce can be found in the wild in France in the Alps, Jura and Vosges. The oldest tree on earth would be a Norway spruce present in Norway. According to a dating it would be about 7900 years old. Spruces also require a lot of work but grow twice as fast as Nordmanns; their very characteristic fragrance makes their charm. They also have the advantage of having a very compact branching, provided they are carefully pruned. If they are cut too early and exposed to a heat difference they will lose their needles. By ordering a spruce on our site www.sapindenoelrennes.com you have the assurance that it will be cut at the last moment; the ideal would be to ensure that its base is moistened once installed in your home to slow the loss of needles. If you want to install a spruce we advise you not to install it too early, at most 15 days before Christmas. Spruce makes it possible to have a fragrant tree at a very reasonable price. As for the Nordmanns you can order a spruce on our site www.sapindenoelrennes.com in three different sizes.
Dimensions in cm 125/150, 150/175, 175/200
The Nobilis is the Rolls-Royce of the Christmas trees. It has many advantages ; it does not lose its needles and gives off a very pleasant and sweet smell of resin. Its blue needles are very soft and resistant. Without question our favorite tree. We offer it in two sizes on our website 125/150 and 150/175 cm.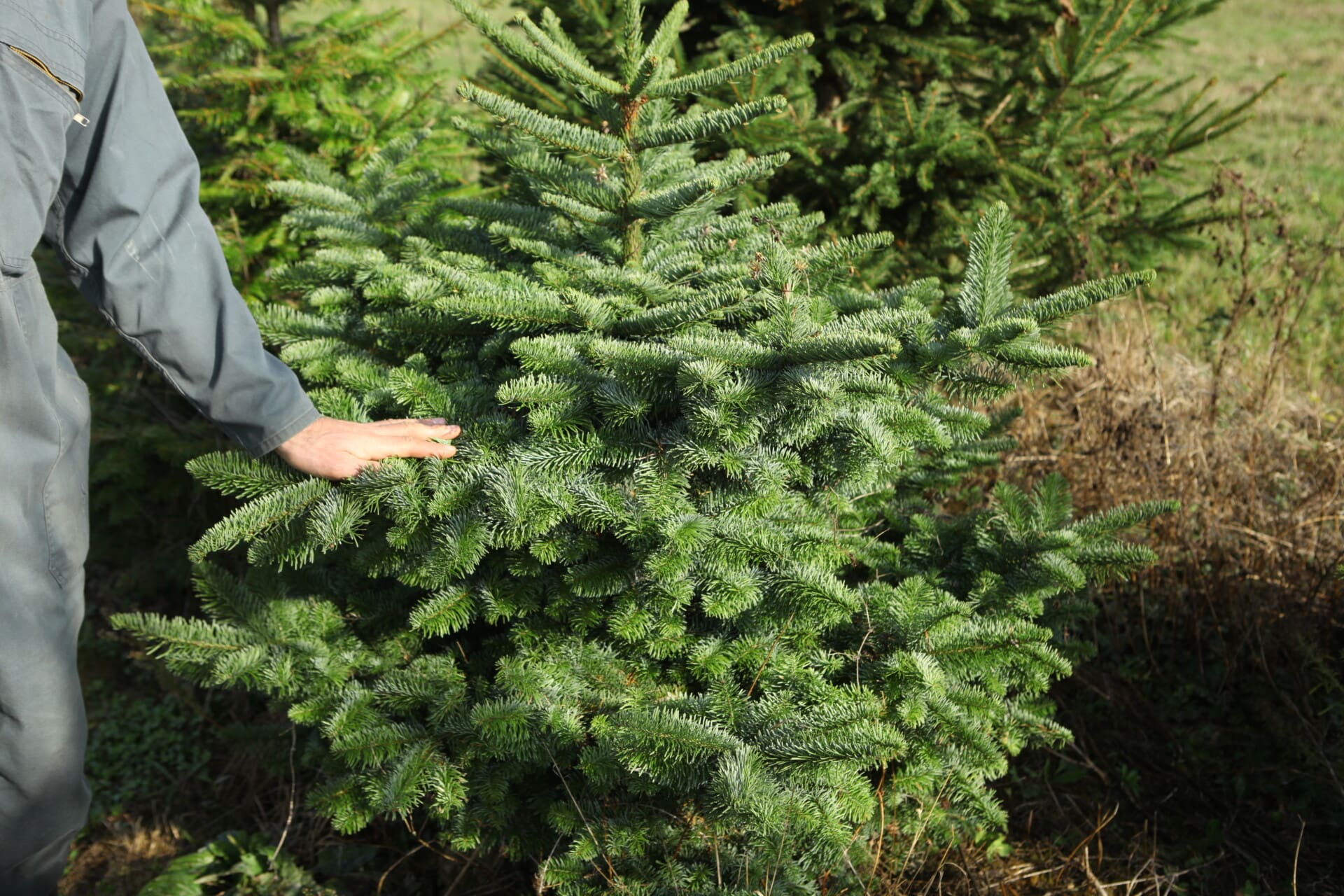 FOR OUR FAR AWAY CUSTOMERS :
Through our network of professional carriers we can organize transport and delivery into your region or country. For prices for long distance transportation as well as outside France please contact us by email or phone +33 609858093.